Dear fellow brawl hacker/user,
We hereby invite you to join and participate in the next revolutionary step in the hacking community. This step is key for brawl hackers and users alike, and will well accomplish what we have all meagerly attempted to get done within forums and/or extremely long and unorganized roster pages.
We present to you, the
BrawlHacks Wiki
. We can assure you that many, many hours (even weeks) went into the preparation and creation of this Wiki, and is
very
ready for your input. We didn't want to clutter up your inbox with more than 1 image, so you'll have to click the link above and become familiar with the navigation and purpose of the BrawlHacks Wiki.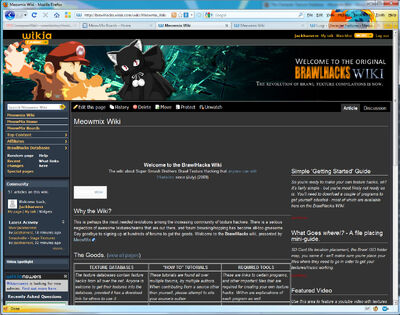 While the main page
does
state "MeowMix Wiki" - it was required that we name it that in order to give Wikia.com information about our roots.
This Wiki is, however, NOT AT ALL exclusive to MeowMix textures
In fact, it is quite the opposite. We intend for every texture hacker, whether on a team or not, to participate freely in updating the database of textures within the Wiki.
By using the BrawlHacks Wiki, users will be able to copy and paste a simple template, edit it, and have their texture freely downloadable among other users. Many popular forums have attempted, and done fairly well at making sure giant "indexes" of textures were well organized and easily usable. Where the forums failed, the BrawlHacks Wiki picks up the slack.
No admins will have to help each and every individual user
. There will be house-cleaning every once in a while, but with the template - the addition and updating of textures is as easy as 1-2-3.
We admonish you to let your visitors know via an update, as well as participate yourself. The faster this Wiki grows, the more central the site will be for people to come and enjoy
everybody's
creations. Don't think for a second that just because you may be on a team that it will transfer the focus texture creation from your site to this one. That is not the intention of the BrawlHacks Wiki. The purpose is to create a central location where users can
view
,
submit
, and
download
each texture
easily
.
We appreciate all that you have done to participate in the Brawl Hacking Community, and hope to continue to see more of your work.
-The BrawlHacks Wiki Team


Team MeowMix